Many people suffer with lower and upper back pains, where majority of them are extremely painful.  If you are one among them and need an ultimate back pain solution, then this article is for you. There are many pain relief products which get rid of your back pain, muscle pain instantly, but not all these products are trust worthy and reliable. If you are looking for a natural and power back pain relief, then start using Acupressure mats for body and mind relaxation. Acupressure mats are completely natural and can improve your blood circulation to every part of your body.
5 Best Reflexology Acupressure Mats for Back Pain Relief:
Acupressure mats can decrease the muscle soreness, and increase the levels of feel good harmonies endorphins. They can also increase the level of uptake oxygen in your body, which improves the quality of sleep, digestion and metabolism. Here are the top 5 best reflexology acupressure mats which can ease your back pain instantly.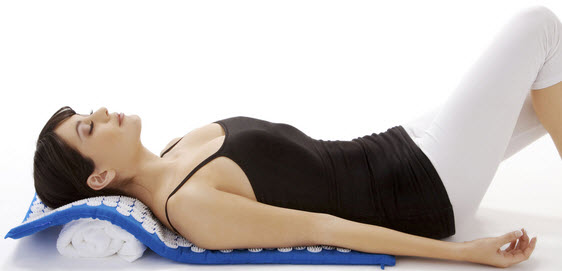 Spoonk Acupressure Massage Mat
Spoonk is one of the leading acupressure massage mat brand sold all over the World. Spoonk mats have 6200 stimulation points for the highest effect and relaxation. These stimulation points are made with high quality non toxic abs plastic that will not cause allergic reactions. They use pure high quality thick cotton foam in all their Acupressure mats. Spoonk Acupressure massage mats are extremely effective on pregnant women, people who suffer from heart conditions, diabetes, bleeding disorders, skin inflammations and etc.
Pros: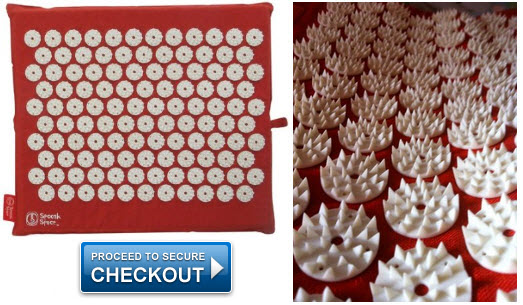 Amazing comfort
High quality thick cotton
Plant based Eco foam
Comes with a carry bag
6200 stimulation points
5 years warranty
Available in different colors
Featured by Dr Oz's & Oprah O Magazine
Cons:
Should deal with initial pain (50 seconds)
Should deal with get up pain (30 seconds)
Price:
Actual Price: $59.99
Discounted Price: $39.86
Nayoya Acupressure Mat
Nayoya acupressure mats uses the benefits of acupuncture and acupressure to help your body repair itself. This mat can heal you from all kinds of stress, such as back pains, fatigue, insomnia, high blood pressure, and muscular soreness. It can stimulate the body to release endorphins hormones, as they have a soothing effect on the mind and body. The mat improves your muscles to recover from workouts, and improves you sleep instantly. Nayoya acupressure mats are completely portable, light and affordable.
Pros: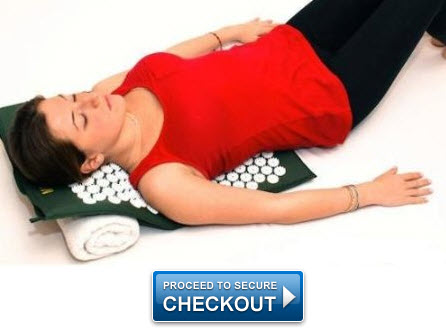 Works amazing on back pains
Improves circulation
Longer use gives you more comfort
Light and portable
Cons:
No instructions on how long to use it
Hurts initially until you can get used to it
Price:
Actual Price: $69.99
Discounted Price: $29.95
Heavenly Acupressure Mat
Heavenly acupressure mats are popularly known for natural relief on back and muscle pains. This mat stimulates the release of endorphins and oxytocin in our body instantly. Heavenly acupressure mats can help us in weight loss as featured on Dr. Ox show. This mat is featured as one of the best products for natural pain and stress relief. This mat uses a high quality material with 100% natural cotton, toxin free ABS plastic where no glue is used in the manufacture process. This mat is not suitable for pregnant women, and also for people who use anticoagulants or blood thinning medications.
Pros: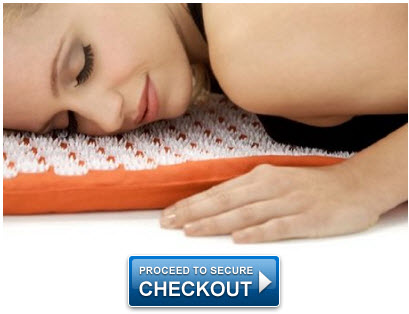 Weight loss
Warms your body
Inexpensive
Washable cloth
Natural cotton
No glue used
More stimulation points
Cons:
Initial Pain lasts 1 minutes
Needle pressure will be more on bare skin
Price:
Zensufu Acupressure Mat
Zensufu acupressure mat is popularly known for its inexpensive price and general well being. This mat has 6,210 acupressure points which help people who are stressed out, sleep poorly, have low energy, feel tiredness, back stiffness, muscle tensions and also who require complete rest. This mat is not suitable for kids under 18, as they cannot take too much pressure on bare skin. You can use this mat to sleep on bed, floor, sofa, chair and other comfortable places where you prefer to sit. If you feel the needles are too sharp, then try wearing a tee or a thin towel to protect your skin from initial pain.
Pros: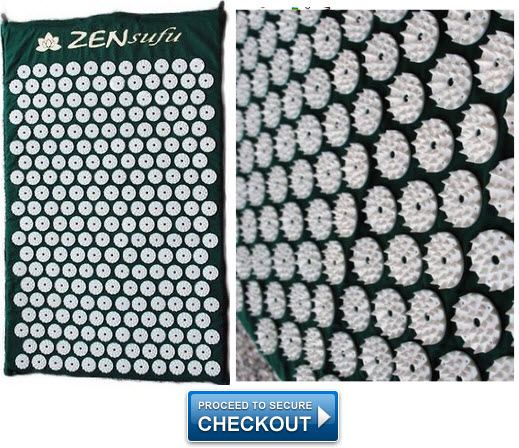 Inexpensive
6,210 acupressure points
Good for muscle relief
Portable and light
100% cotton
Non-toxic ABS plastic on spiked flowers
Includes a carry bag
Cons:
Initial Pain (2 minutes)
Decreased pressure when on a tee, cloth
Price:
Shakti Acupressure Mat
With the pleasant Indian name of Shakti (Power), the shakti acupressure mat provides great comfort and deep relaxation to your body. It has 6,000 acupressure points which are very effective to reduces the tension and back pains. Use the Shakti acupressure mat for 20 to 40 minutes daily to release endorphin hormones from your body. It works amazing on back and neck pains instantly. This mat combines the ancient practice of acupressure with latest technology to engage your body's healing functions. Shakti acupressure mat is made of 100% pure Indian cotton, and the foam cushion is made out of a non-toxic material to protect your skin from infections.
Pros: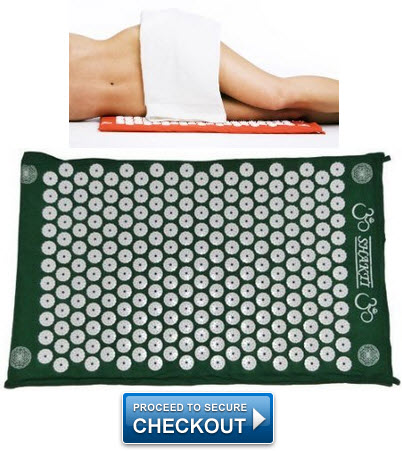 Great Comfort
6,000 acupressure points
100% Indian cotton
Foam cushion uses non-toxic material
Produces warm heat
Available in Green and Orange
Cons:
Works good for bare skin
Initial Pain (1 minute)
Price:
These are the most popular acupressure mats which reduces your back pain instantly. In our next article, we will mention about the best acupressure mats with neck support and additional addons to ease your back pain instantly.
Disclaimer: Please consult your physician if you are confused to pick the right mat for you.